Posted by Abdel Kadz on Sunday, October 14, 2007 with
No comments
Early this year, the Federation of State Boards of Physical Therapy (FSBPT), the body that administers and develops the National Physical Therapy Examination (NPTE), raided two review centers here in the Philippines following reports of "recalled questions" being given to the prep centers' reviewees. This action resulted in the holding of the results of all Philippine-trained physical therapists who sat or will sit for the NPTE. This development has disheartened the entire Filipino PT community.
Now, in the attempt of FSBPT to "protect the public by providing service and leadership that promote safe and competent physical therapy practice," a recent update was posted on the FSBPT website.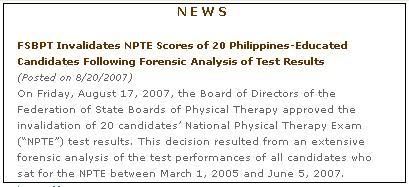 On it, 20 Philippine-trained physical therapists' score has been invalidated following an extensive forensic analysis of all candidates who sat for the examinations from March 1, 2005 to June 5, 2007. Accordingly, all candidates, regardless from where they got their degrees, had their test performances analyzed using the forensic analysis method. Of all the candidates, only 20 scores were invalidated. All the 20 are Philippine-educated therapists.

This is yet another blow to us Pinoy physical therapists. Like the ripple effect, the impact of this is felt everywhere, from the already professionals who are working in hospitals or rehab centers to the school campus where future therapists are honed to become good at their chosen discipline. The hopes of the 20 to work in the United States is a dream that will never come true, add to that, like the scarlet letter, a label that will mark them for a long time. Who is to blame? The review centers for fostering and encouraging such form of cheating? The candidates who would resort to this to get that three-lettered license?

Who is to blame? Nobody wants to point the finger it seems.